The next Passionplay will start 29. March 2024.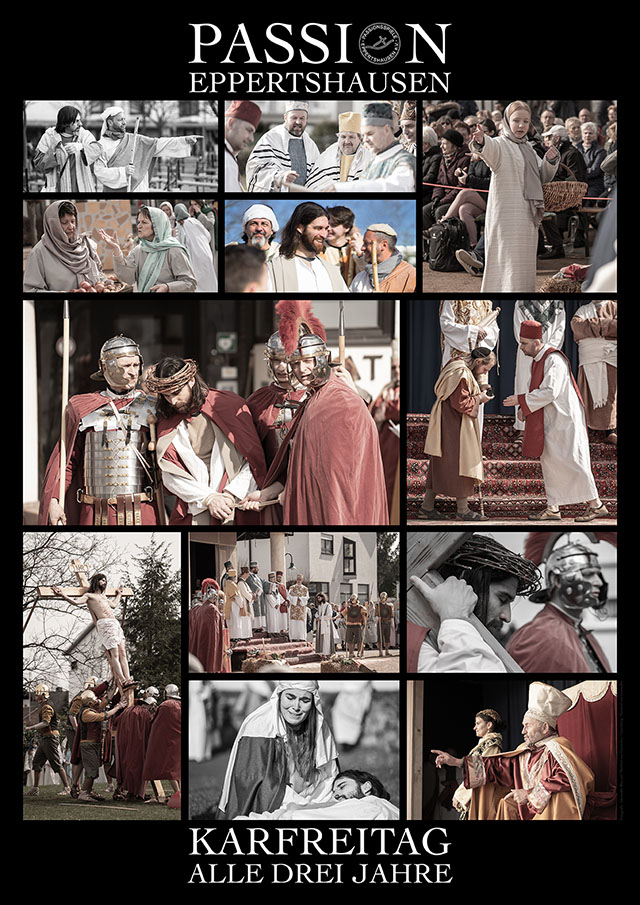 Dear guest,
The Passion Play is performed once every three years in Eppertshausen, on Good Friday. It is played out in the middle of town, which means that, for a single day, some of the streets and public spaces in Eppertshausen are transformed into an open-air stage where amateur actors carry out the play. In the past, depending on the weather, we have had an audence of between 2.000 and 3.000 people.
The play itself is comprised of various stations of the passion of Jesus, his entry into Jerusalem, the cleansing of the temple, the last supper, his capture and interrogation, his sentencing and crucifixion. The german text is based on the relevant sections of the new testament.
We call on you to discover your talents as a main character or in a supporting role, as a tailor, stage builder or extra. Come and support us on, and behind the stage!
The Passion Play is FREE of admission. The passion play Eppertshausen lives from private donations and from our sporsors. Support us. Put yourself in good company and become one of our doners or sponsors.
Current themes can be found on our german language Facebook Webpage.